Green Acres Elementary School broke ground today for a new $240,000 playground. The playground, which replaces one that has been at the school for more than 20 years, will feature Miracle Recreational Equipment, including a Heptagon Mega Tower, Tree-O Climber, Buttress Climbers, Imagination and Activity Panels, Canyon Climber, Tube Slide, Typhoon Slides, Horizontal ladders, swings and ADA compliant swings and wing frames, Jax Web, and a Gaga Pit. The new playground meets the current American Society for Testing and Materials and Consumer Product Safety Commission standards as well as Americans with Disabilities requirements, and is expected to be completed by early December.
"It is very rewarding when you see a group of individuals coming together to achieve a common goal", said Michael J. Freda, First Selectman. "I am delighted to see the hard work and vision of the PTA members and stakeholders come to fruition. The Town of North Haven is grateful to the Tariq Farid Foundation and Quinnipiac University for their generosity in helping us achieve this new, safe and enjoyable playground."
This project is being funded entirely by donations, including $150,000 from Quinnipiac University, $50,000 from The Tariq Farid Foundation, $37,000 from the Green Acres Elementary School PTA, $2,500 from the North Haven Education Fund and $500 from the North Haven Rotary Club. Representatives from each of these organizations are expected to attend the groundbreaking. Quinnipiac's contribution is part of the $500,000 voluntary payment it made to the town of North Haven earlier this year.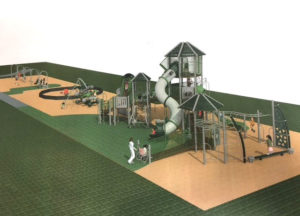 "Being able to contribute to the Green Acres Elementary School playground improvement project is another tangible way that we can say 'thank you' to the town of North Haven for all the services it gives to Quinnipiac," said Quinnipiac University President John L. Lahey. "We truly appreciate all of the support the Town of North Haven provides to the university."
"I am fortunate to call North Haven, my home. Giving back to community is important. I am pleased that we could support this project and help make the playscape a beautiful place for kids to enjoy," said Tariq Farid, founder of Edible Arrangements and philanthropist.
"We would like to personally thank Selectman Michael Freda and all of the sponsors for believing in the PTA's vision and helping us reach our fund raising goal for the Playground Improvement Project" said PTA Committee Co-Chair Alicia Burr. The collaborative effort included PTA members, the Green Acres Elementary School student body, families, teachers and staff – all of which have worked toward the goal of refurbishing this playground and together watching the vision come to fruition. "We could not have done this without you all and the support of the Community (the Tariq Farid Foundation and Quinnipiac University) and for this the Green Acres PTA is extremely grateful" added Ms. Burr.