Stoeffler, a senior English and theater major from North Haven, was the state of Connecticut winner of NASPA's Catch a Rising Star award, which recognizes an undergraduate student interested in a student affairs career.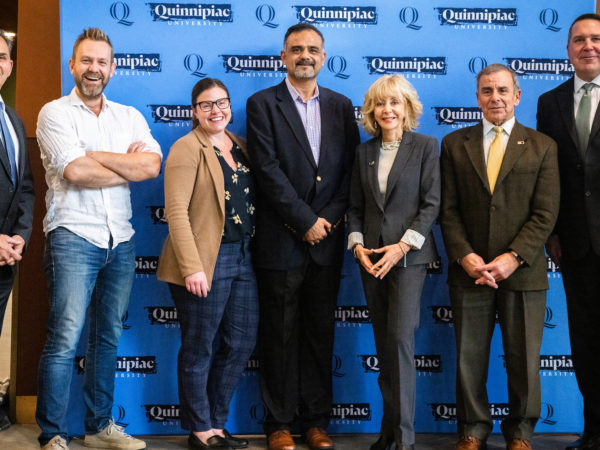 State Rep. Dave Yaccarino, left, State Rep. Josh Elliott, Hamden Mayor Lauren Garrett, Hammad Chaudhry, senior manager of conservation and load management at Avangrid, Quinnipiac University President Judy Olian, North Haven First Selectman Mike Freda and Erik Robie, director of customer programs and products at Avangrid, to celebrate Quinnipiac receiving a Sustainability Achievement Award from United Illuminating and Southern Connecticut Gas, subsidiaries of Avangrid. Photo by Dan Passapera of Quinnipiac University.
As a result, Quinnipiac saved enough energy to power 120 homes each year or remove the equivalent of nearly 300 cars from the road annually.