On Wednesday, State Representative Dave Yaccarino and State Senator Paul Cicarella welcomed the 2022-23 State Champion football and hockey teams from North Haven High School to the State Capitol. The North Haven lawmakers hosted over 100 distinguished scholar-athletes alongside dedicated coaches, staff, school faculty, and superintendents. Both teams were introduced on the floor of the Connecticut Senate and House of Representatives to thunderous applause from legislators, staff, and guests in attendance. 
On December 10th at Rentschler Field in East Hartford, North Haven football defeated Killingly 51-34 to claim their first-ever Class MM State Championship.
The North Haven hockey team went on to win its third CIAC Div II State Championship on March 20th at M&T Bank Arena at Quinnipiac University in Hamden, defeating Woodstock Academy 2-1 in overtime.
"Congratulations to the football and hockey teams on making history as state champions and for all of the hard work that led to your incredible accomplishments on and off the athletic fields," Rep. Yaccarino said. "Through your achievements, you witnessed the value of teamwork and collaboration, and how they are pillars to building successful teams and strong relationships. We are so proud of how you have represented our town. Every player, coach, parent, and supporter should celebrate these state champions." 
"North Haven's football and ice hockey teams have made us all proud from their remarkable runs to state titles. Congratulations to the student-athletes, coaches, administrators, and the families for this achievement. You cannot take shortcuts to become a state champion. Our teams embody the hard work that goes into becoming the best in any pursuit. I'm glad that we had the chance to welcome the teams to the capitol to highlight their tremendous accomplishments," said Sen. Cicarella.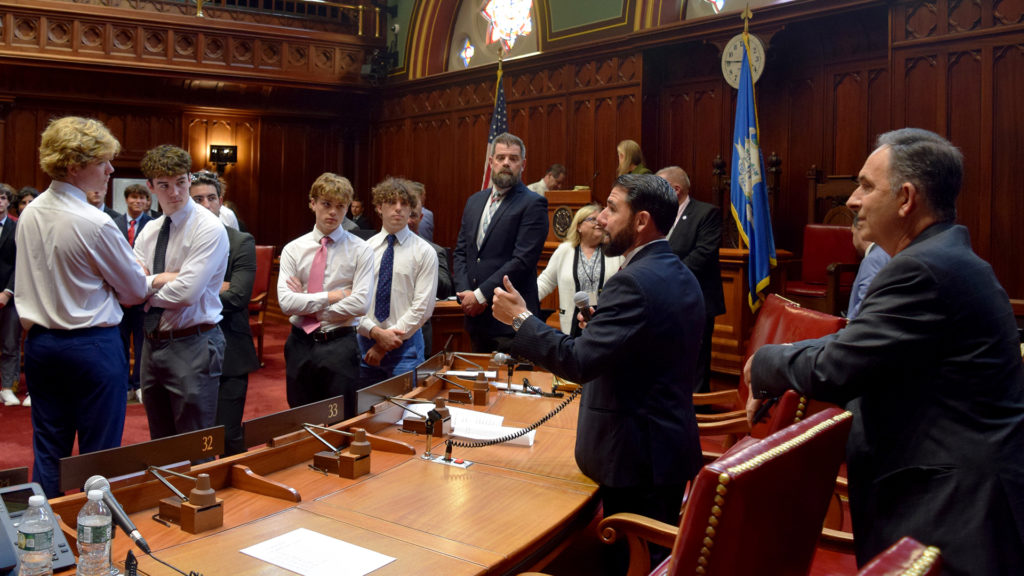 Following introductions before both chambers of the General Assembly, the teams were brought through the Capitol and out to the North steps where they were met by Governor Ned Lamont, who delivered congratulations for the state champions.  
The dual state championships come as North Haven varsity softball competes for an SCC Championship on Thursday in West Haven.
Both lawmakers commended the North Haven athletics leadership for the program's success based in years of strong practices and lauded the state championship victories as a culmination of those efforts.
Families of athletes gathered in the galleries of the House and Senate to witness the athletes' introductions.