Members of the Frank H. Netter MD School of Medicine at Quinnipiac University's Class of 2020 were urged today to never lose the force that has driven them to become physicians as they participated in a virtual commencement ceremony.
A total of 82 doctor of medicine degrees were conferred, as well as five anesthesiologist assistant degrees.
Commencement speaker Dr. William A. McDade, PhD, implored the new medical professionals to maintain the sense of wonder that drove many of them in their love of the sciences.
"Apply a humanistic lens to all that you do that is appreciative of difference and embraces inclusivity. Ask deep, reflective questions of yourself about the things you accept daily as true. Find out, 'Why?'"
McDade, the chief diversity and inclusion officer at the Accreditation Council for Graduate Medical Education, told the graduates that he suspects many of them will contribute meaningfully to the discovery of solutions to counteract the COVID-19 pandemic.
"In all the work you do, please do your best to understand those who are different from yourself, to break down the empathy gap and to always strive to do your very best for all patients," he said.
Quinnipiac President Judy D. Olian praised the graduates for stepping up when their communities needed them the most.
"As our state and nation grappled with the rapid surge and spread of COVID-19, your medical instinct kicked in, and you stepped forward to help," she said. "You connected with vulnerable seniors feeling isolated and staffed a crisis text line for any individual in need; you created masks for health care workers and gathered and donated other forms of PPE; you delivered groceries to families in need and fanned out to food banks and soup kitchens around Connecticut. And, somehow, with all this support you gave to our communities, you still found time to manage a challenging course load and produce scholarly work."
Olian encouraged the graduates to help others as they were helped to reach this point in their lives and careers.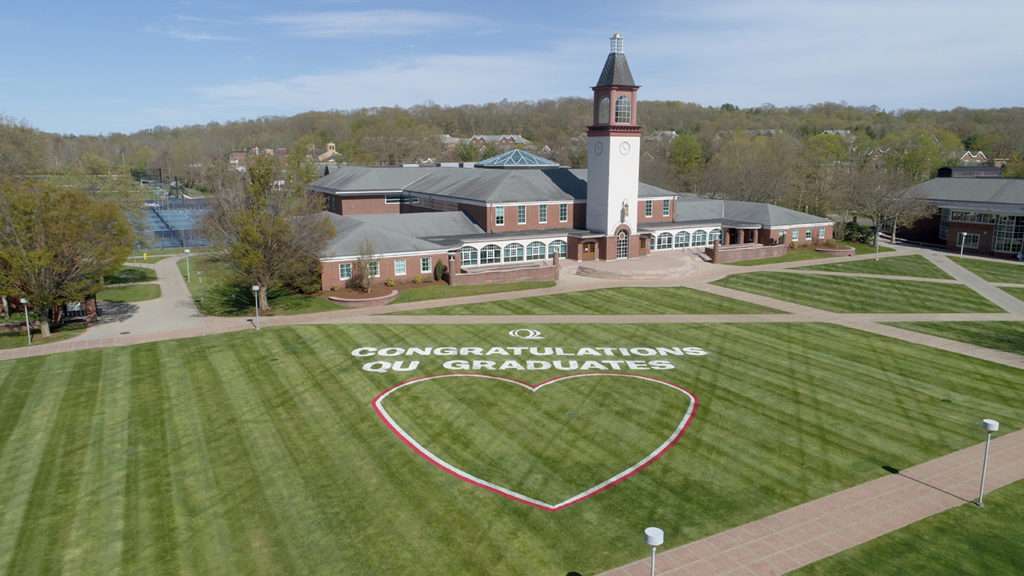 "You are living role models of our Quinnipiac values and what it means to be a Bobcat," she said. "You have already made your mark, and we can't wait to see how you continue to change the world. And, right now, the world needs more kind, compassionate, noble people like you."
Dr. Bruce Koeppen, founding dean of the School of Medicine, told the graduates that each of them had a lot to be proud of — and have already overcome adversity.
"I am quite certain that when you were welcomed into the Netter family, and received your white coat and stethoscope, this is not what you expected your commencement ceremony would be like," he said. "You celebrated your capstone projects and Match Day results remotely and, today, you graduate remotely."
The dean described his graduates' resiliency as amazing to the more than 550 people attending the ceremony.
"As you leave Netter, I know many of you will now move to the front lines in this fight," he said. "It is normal to feel anxious now and in the coming weeks as you start your residency, but please know that you are ready for what lies ahead. You have already shown the faculty that you have the knowledge, skills and compassion to make a difference in peoples' lives. Be confident, be eager and be strong."
Dr. Florence Yuan urged her fellow graduates to remember and celebrate those individuals who have helped them reach this milestone.
"So much of what we've done, we owe to all of you sitting in the audience today," she told the graduates' friends and families watching the ceremony from around the world. "You've supported us throughout our medical school journey — even when you had no idea what we were learning about, and we didn't really know either. You've made us food, you've allowed us to test our stethoscopes and reflex hammers on you, and you've put up with us only calling you once a week, or month — or year. I know I would not be wearing this fancy cap and hood today without my parents' unwavering support. I think most of us still can't believe that we're doctors, but all of you believed in us when we didn't have the confidence or energy to believe in ourselves. Even if we don't always show it, we are so grateful for you."
Despite the health care crisis currently facing the world, Yuan said she was optimistic about the future.
"The years ahead will not be easy, and we don't know what changes are coming, but I know that if anyone can handle those changes, it is us," she said.
Quinnipiac remains committed to celebrating law, graduate and undergraduate Commencement with in-person ceremonies when it is safe to do so. New dates will be shared once they are established.
Dr. Traci Marquis-Eydman, associate professor of medical sciences, medical student home program director and longitudinal integrated clerkship director, urged the graduates to never forget that they must also treat themselves with compassion — which includes nurturing relationships.
"Allow room in your life for connections to others — whether they be family, friends, colleagues, patients, neighbors or even strangers," she said. "Nurture these connections for they will sustain you; they will add to your sense of purpose and your sense of fulfilment. And they will ultimately be your emotional PPE when you need it the most."
She encouraged the graduates to always choose hope — as the hopeful person will always try.
"Keep your heads up, your heart full and your eyes wide open — eyes always wide open. For every moment doing what you love is a moment well spent," she said.