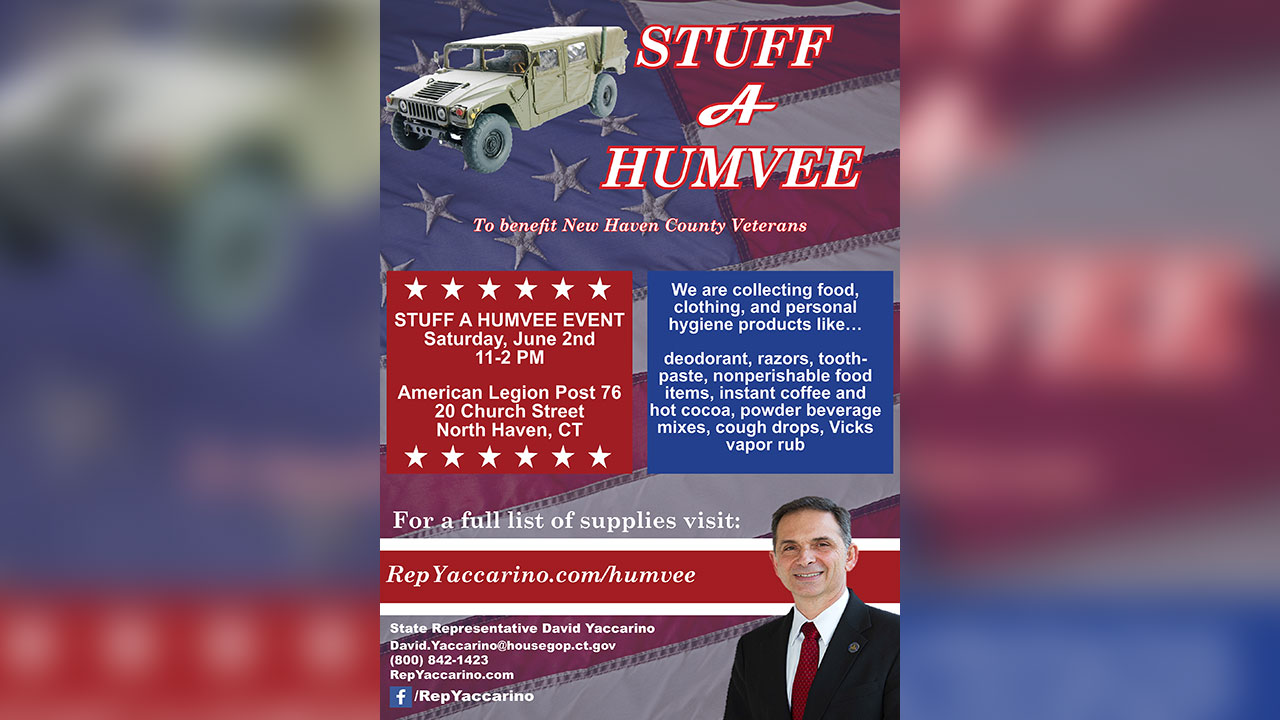 State Representative Dave Yaccarino (R-87), in conjunction with Veterans Services of New England is hosting a 'Stuff a Humvee' event to collect items to benefit local veterans in need.
The event will take place on Saturday, June 2nd from 11:00 a.m. to 2:00 p.m. at American Legion Post 76 located at 20 Church Street in North Haven. 
There will be a 'Humvee' on the premises to collect non-perishable food items and toiletries that will then be donated to local Veterans in need. Rep. Yaccarino is working with town social services departments to identify organizations or veterans that are in most need of these items in the New Haven Country.
"It's critical that we never forget the great sacrifice that our brave men and women in the Armed Forces gave so that we can enjoy our freedom.  I appreciate those sacrifices and believe that it is our duty to at least provide some basic needs and services to our most vulnerable veterans," Rep. Yaccarino said.
What: Stuff a Humvee Veterans Collection
When: Saturday, June 2nd from 11:00 a.m. – 2:00 p.m.
Where: 20 Church Street in North Haven
Some of the needed items include:
Personal Care:
Deodorant, men's and women's
Razors, men's & women's
Shaving cream
Soap
Hand soap
Shampoo/conditioner
Shower gel
Toothbrushes
Toothpaste
Mouthwash
Dental floss
Feminine hygiene products
"Depends" type products
Vaseline and hand lotion
Medicated foot powder
Nail files/nail clippers
Cough drops
Vicks vapor rub
Reusable water bottles
Combs/hairbrushes
Hand sanitizer
Contact solution/eye drops
Chapstick/lip balm
Individual tissue packs
Band aids
Wet Ones type hand wipes
Q-Tips
Dry shampoo
No-rinse wipes (for adult personal hygiene)
Clothing:
New or unworn adult winter jackets
New or unworn adult mittens and gloves
New or unworn adult winter hats and scarves
NEW packs of adult socks, male and female – cotton or wool
NEW packs of men's & women's underwear
New or unworn men's & women's shoes/boots/winter boots
New or unworn children's winter jackets, mittens, gloves, hats and scarves
Food Items:
Nonperishable food items
Cases of individual bottled spring water
Gallon size spring water
Regular "ground" coffee
Nonperishable canned goods
Packages of hard candies
Instant coffee and hot cocoa
Powder drink mixes
Chewing gum
Miscellaneous:
New household cleaning supplies
Non-prescription reading glasses ("Readers")
Hand/feet/body warmers
Can openers for nonperishable foods