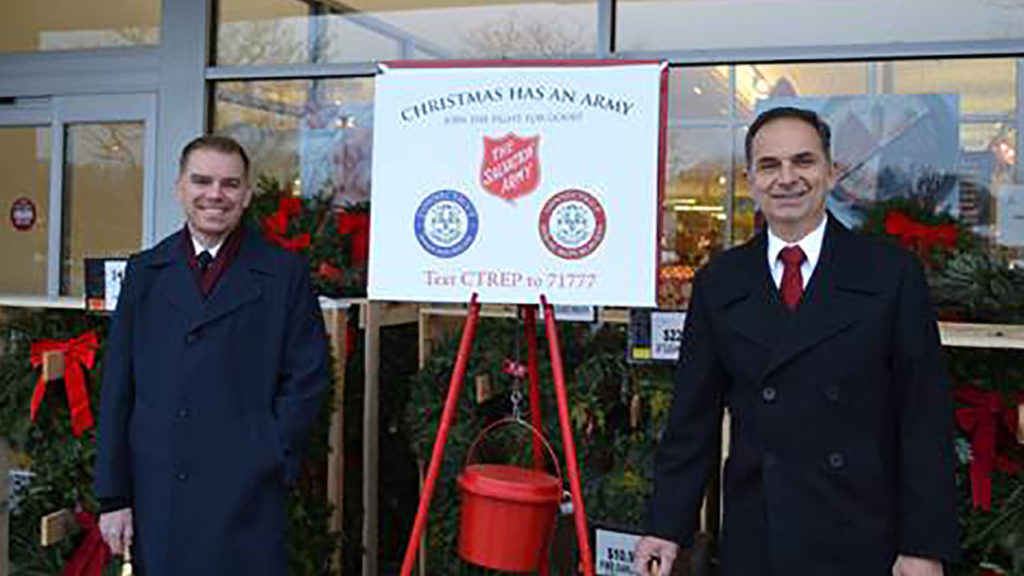 State Representative Dave Yaccarino joined The Salvation Army's annual "Red Kettle Campaign" on December 12th outside of Stop & Shop in North Haven.
Over the course of an hour, Rep. Yaccarino joined a representative from The Salvation Army and participated in the time honored tradition of 'Ringing the Bell' as they greeted holiday shoppers.
"I am glad that I had an opportunity to help raise money for such a good cause. This short span of time spent with The Salvation Army gave me a better appreciation of all that they do for our community as well as across the nation" said Rep. Yaccarino of his experience partnering with the Salvation Army and Stop & Shop. "I am grateful to all those that donated towards the efforts of the Red Kettle Campaign and for all those that extend a helping hand throughout the holiday season. These funds will go a long way in helping our neighbors in need this holiday season."
Rep. Yaccarino was joined by Salvation Army Captain Charles Adams, Corps. Commanding Officer of The Salvation Army.
All proceeds will be donated directly to The Salvation Army. Donated funds will help The Salvation Army provide basic social services to those in need of food, shelter, clothing, and financial assistance. The organization also responds to natural disasters such as wildfires and tornadoes, provides meals and toys to families in need, and conducts research and analyses regarding human needs around the country. They also provide adult rehabilitation, veteran services, elderly services, missing person searches, housing assistance, youth recreation, sponsorship, and support in the fight to end human trafficking.
State Representative Dave Yaccarino is Ranking Member of the Committee on Commerce in the General Assembly.
Representative Yaccarino represents the town of North Haven in the General Assembly.