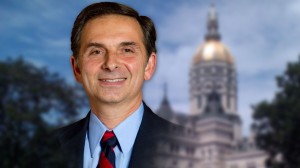 First off, I'd like to wish you and your family a happy New Year!
Now that we have begun 2016, the General Assembly is set to convene for the next legislative session on February 3. During odd-numbered years, like 2015, the legislature works to develop the state's budget. With this year being even-numbered, the legislature will work on budget adjustments. My colleagues and I will focus on all matters pertaining to the budget during this session. Any matters not pertaining to the budget are raised through the committee process.
I have already reached out to various committees and submitted bill proposals that I feel will benefit the citizens of Connecticut, especially those in North Haven. Below are just a few of the bill proposals I have already submitted:
Allow towns the option to expand retiree property tax relief benefits
Allow towns to offer veterans property tax relief
Allow trade businesses (plumbing, carpentry, etc.) to engage in an optional partnership and mentoring program with high schools; incentivized with a tax credit
Decrease the time an insurance company can wait before authorizing urgent care CAT scans
Protect federal money allocated to veterans' housing
Reclassify adjunct professors as independent contractors, saving the state $30 million a year
Explore options to increase rapid re-housing options for veterans an

d their families
I'd like to thank those of you who reached out to me with bill proposals. I value and appreciate your ideas. I urge anyone with ideas regarding bill proposals to please reach out to me; I want to hear from you. The deadline to submit bills to committees is February 5, 2016.
I am available by phone at my office at 800-842-1423, or email. Also, I kindly ask that each of you take a moment to visit my website at to read my latest updates and sign up for my e-newsletter. I send regular letters to the editor and utilize social media to stay connected. You can find me on Facebook.
Senator Len Fasano and I hold our monthly office hours at the North Haven McDonald's on the 1st Friday of every month from 8 – 9 a.m. I hope that you will consider joining us.
Keep in mind that there are also several resources available that allow you to remain informed and track what is happening at the State Capitol.
Anyone looking for information regarding the Connecticut General Assembly should visit www.cga.ct.gov, where you will find information on new bills, Legislative Committees, Caucuses, and events in the Capitol and Legislative Office Building, including public hearings.
Visit www.ct-n.com, Connecticut Network (TV broadcast on cable access), to watch live video of proceedings at the State Capitol and the Legislative Office Building, including session and public hearings.  A DVR feature is also available.
Visit www.cga.ct.gov/ofa  (Office of Fiscal Analysis) to find information regarding state revenue, general fund projections, recent rescissions made by the Governor, town grant data, and historical data on state spending.  Read about the state budget as it stands at www.cga.ct.gov/ofa/explorebudget.asp.
The non-partisan office provides reports on how state government spends taxpayer dollars and can be found at www.osc.ct.gov/openct (Office of the State Comptroller).
Summaries of public acts and committee documents are also available at www.cga.ct.gov.olr (Office of Legislative Research). This non-partisan office reports on expansive issues from job creation to behavioral health.
Stay tuned for more updates, I intend to keep you informed on the issues I'm working on in committee during the 2016 legislative session. I serve as the leading House Republican lawmaker on the legislature's Veterans' Affairs Committee, as well as the legislature's committee on Finance, Revenue and Bonding, Public Safety and Security and Energy and Technology.
As always, it is truly and honor and privilege to continue to serve the residents of North Haven and to be your voice in Hartford.
Sincerely,
Dave Yaccarino
State Representative of the 87th General Assembly District